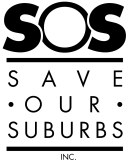 Save Our Suburbs Inc (Vic) will hold its 2010 AGM on Sunday 14th November 2010 at 3pm at The Elsternwick Club, 19 Sandham St Elsternwick (Melways 67 G3).
GUEST SPEAKER
Julianne Bell, Secretary of Protectors of Public Lands Vic), will outline some of the positive actions that PPL and other groups have been taking recently to oppose planning and transport projects that increasingly threaten the residential amenity of Melbourne.
Protectors of Public Lands is a coalition of community, environmental and heritage organisations formed to protect and preserve significant public lands in public ownership for present and future generations.
Refreshments will be served after the meeting
At this AGM, SOS will:
Confirm the minutes of the last preceding annual general meeting;
Receive reports from the Committee on the Association's transactions during the last financial year –

Consider the statement submitted by the Association under section 30(3) of the Act.

Elect officers of the Association and the ordinary members of the Committee

(NB: At this AGM, the President, Treasurer and three ordinary committee members will be elected. SOS members financial until 30 June 2010 or later are eligible to vote)
Proxies:
If you are a financial member unable to attend the AGM and wish another financial member to act on your behalf at the meeting, please complete the Proxy form on the back of this notice (or download one from the web site) and return it to the Secretary at the address below (or use the included envelope) by
3pm, Thursday Nov 11th, 2010.
Nominations for the committee must:
be made in writing by a current financial member, signed by two other financial members of the Association and accompanied by the written consent of the candidate (which may be endorsed on the form of nomination); and
be delivered to the Secretary of the Association not less than seven days before the date fixed for the holding of the annual general meeting (ie before the 7th of November, 2010).
A nomination form is on the SOS web site (www.sos.asn.au), but any format is acceptable as long as it contains the required information. Any candidate statements will be posted unedited on the SOS web site (email well beforehand to sos@sos.asn.au). If you would like a mailed statement or nomination form, contact us on 9513 9674 and we'll post you a copy.
Candidates should send nominations directly to:
The Secretary
PO Box 739
Richmond 3121
Ian Wood,
President, Save Our Suburbs