The report back from Cheryl of SOS was that the Aug 14th forum was a very lively event. Cheryl attended the forum at the Melbourne Town Hall – a turnout of 400 to 500 people.
There are more events coming up all over town – see below – get involved! take the opportunity!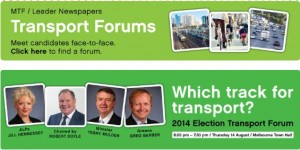 Coming to a town hall near you   View full details in your browser 
14 town hall meetings with Greens, Liberal and ALP candidates
In the run up to the next State election, Melbourne councils and Leader newspapers have combined to organise candidate forums about transport in town hall meetings across Melbourne.
The forums will be a chance to discuss transport issues, ask questions and get answers from ALP, Liberal and Greens candidates.
Banyule – Tuesday 12 August 
Port Phillip – Wednesday 13 August 
Whitehorse – Monday 25 August
Stonnington – Tuesday 26 August
Moonee Valley – Thursday 28 August
Whittlesea – Sunday 7 September
Yarra – Monday 8 September 
Darebin – Tuesday 9 September 
Glen Eira – Wednesday 10 September 
Frankston – Thursday 11 September
Moreland – Monday 29 September
Western suburbs – Mulder, Hennessy and Hartland Wednesday 1 October
Melbourne – Thursday 2 October 
Monash – TBC Tuesday 7 October
Follow the links to RSVP, get more information or suggest a question.
Thank you for supporting better transport. The MTF represents 23 Melbourne councils and advocates for better transport.
mailing address is:
MTF c/o Edunity
202/517 Flinders Lane
Melbourne, VIC 3000
Australia