Want to warn local developers that you won't tolerate over-development? 
Get one of our new waterproof corflute signs to erect on your property (standard size – 600mm  x 900mm)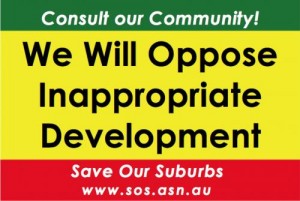 Signs are $20 each (SOS members get their first one for only $15 !).
TO ORDER A SIGN and arrange payment & collection:
DO NOT USE THE CONTACT FORM BELOW – WE ARE EXPERIENCING TECHNICAL PROBLEMS WITH OUR WEB FORMS.
INSTEAD, EMAIL US DIRECTLY using info@sos.asn.au, stating your name, the number of signs you want, when you want to pick them up, and which suburb you want to pick up from – McKinnon, Richmond or St Kilda West.

Payment is by cash or cheque on pickup from the most convenient suburb for you.  If you prefer direct transfer, payment must be made a day or so before pickup so the transaction can be confirmed prior to collection.
NOTE 1:  Once or twice in the last two decades a council has suggested (unsuccessfully) that erection of signs like this requires a planning permit.  However, most council signage by-laws that we are aware of specify that requirements for non-commercial signs apply only to advertising events and activities (eg run by community groups).  This is quite different to an individual home owner's right to protest, as long as your sign is erected on your private property and not in a position where it could interfere with drivers' vision.
NOTE 2:  Some community group members also use these signs at local auctions to create discussion and to let potential developers know that the local community is likely to oppose permit applications for inappropriate new development.
So what's "inappropriate"? The simplest definition is where the proposal doesn't comply with the relevant guidelines and policies in the planning scheme, including neighbourhood character

NOTE 3:  Some auctioneers have attempted to intimidate objectors at auctions by threatening them with legal action if they attempt to "disrupt" the auction:
"The law forbids an intending bidder or a person acting on behalf of an intending bidder from doing any thing with the intention of preventing or causing a major disruption to, or causing the cancellation of, a public auction of land."
However, land auction laws do not appear to prevent a passive display indicating community concern in the public interest about the potential for overdevelopment, and we know of no case where there has been any legal follow-up to such threats

.
See:
Sale of Land Regulations 2005,  Schedule 5
Alternatively, you can also make your own placards quite cheaply – create your own design and wording on a computer, print & blow up at Officeworks, laminate at the library (to make waterproof) and stick or staple onto corflute or other backing. You can also join several A3 pages together to make one bigger sign.
How many do you need?